ABSTRACT GAMES
• Original and unique
• No variants
• Generic equipment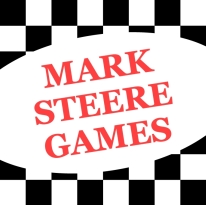 ABSTRACT PLAY - NEW GAME SITE



Dodo Jam Website



PROGRAMMERS

Please
• Don't change the names of my games.

•

Don't change the rules.

• Attribute my games to me, Mark Steere.


Feel free to program my games without monetary obligation.* But in return I ask that you program them right. Don't alter my games by leaving out rules, modifying rules, or adding new rules.



The artwork, interface, and other programming details are your business. The rules are mine.


The rules of my games are final. While I cherish the highly skilled programmers who implement my games, if you are unwilling or unable to program my games correctly and completely, then please don't program them.

* A modest licensing fee may apply to those who expect to earn a substantial profit from the use of my games. Check with me.

DESIGNERS

Please
• Be original.

•

Don't copy my games.

• Be ethical.


My games are highly original. When you base your game on my game, you create something that looks like it was created by me but which doesn't meet my usual, very strict design standards.



When you plagiarize my rules, you aren't "building on my work". You're damaging my trademark.


In one instance, a "designer" copied my game, Cephalopod, and reduced the board size from 5x5 to 4x4, making tie scores possible. He then added a photo of his 4x4 board, with "Cephalopod" printed on it, into a group of actual Cephalopod photos at a popular game database. This created the distinct appearance that I had bastardized my own game, damaging my trademark.

COPYRIGHTS AND TRADEMARKS - All of the games presented here were designed solely by me, Mark Steere. I retain all of the rights to all of my games, including copyrights and trademarks.



Contact - marksteere@gmail.com






Copyright (c) 2021 by Mark Steere. All rights reserved.